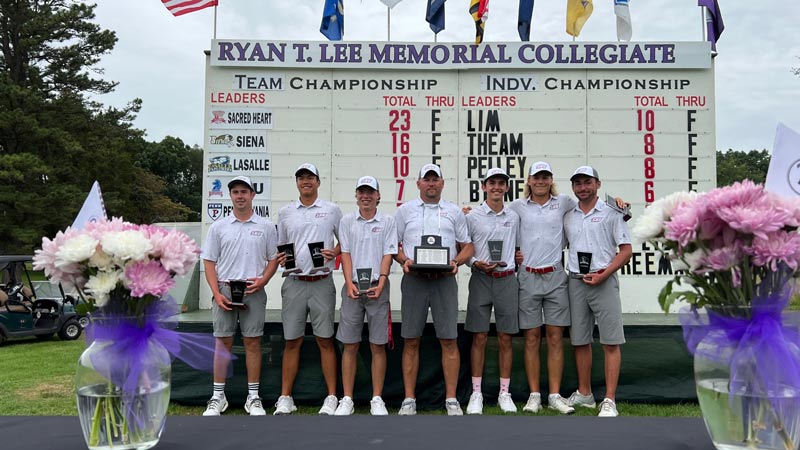 Links: Final Results | Photo Gallery
After a weekend of warm weather, absolutely no wind, and perfect course conditions at Shuttle Meadow Country Club, Sacred Heart University lead the field to record scoring and won the 2022 Ryan T. Lee Memorial Collegiate for the 3rd time in the tournament's 12 year history.
The Pioneers 23 under par team total shattered the previous Ry Collegiate tournament team total record of 7 under par set by Harvard in 2019. Runner up Siena totaled 16 under par, with LaSalle finishing 3rd at 10 under par.
Sacred Heart junior Marcus Lim won the individual title shooting 10 under par and breaking the previous tournament record by 5 shots. His teammate, sophomore Jason Pelley finished tied for 2nd with Army's Dragon Theam at 8 under par.
The big individual scoring news was from LaSalle freshman Kevin Lydon. In his first collegiate tournament round, Kevin fired a 10 under par 61!! After making the turn at 5 under par and adding a birdie on #10, it looked like a special round was happening. A par on #11, bogie on #12, and par on #13 slowed his momentum. But Kevin finished with 5 birdies in a row for a back nine score of 29 and the record breaking 61. Kevin is now the Shuttle Meadow Country Club course record holder. This classic Willie Park Jr. designed course opened in 1917. The previous competitive course record was a 63 held by Andy Brock in the 1988 CSGA State Amateur, which was won by current Champions Tour player, Tim Petrovic.
Congratulation to Sacred Heart University, Marcus Lim, and Kevin Lydon!