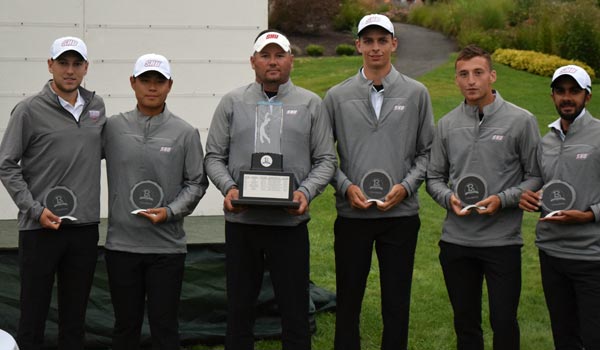 Sacred Heart University shot rounds of 290 – 295 — 585 for a 9 shot victory at the 2018 Ryan T. Lee Memorial Collegiate. The Pioneers also won this event in 2012.
Saptak Talwar led Sacred Heart and won the individual medalist title with a 1 under par total (71 – 72 — 143) by defeating Yale's Matt Smith with a birdie on the second hole of a sudden death playoff.
The key to victory for SHU was their consistent scoring up and down the lineup. In addition to Talwar, they also had top 10 finishes by Alex Manner (T5), Jake Sullivan (T9), and Nathan Kim (T9).
Bryant University and Saint Peter's College finished in a tie for 2nd in the 13 team field.
Next year marks the 10th anniversary of this event, and will be held on September 6 – 8, 2019. Hop Meadow C.C., host of the 1981 NCAA Division II National Championship as well as many USGA qualifiers and CSGA championships, will once again be the tournament site.