2019 Ryan T. Lee Memorial Collegiate
September 6th – 8th | Hop Meadow Country Club | Simsbury, Conn.​
Harvard Wins 2019 Ryan T. Lee Memorial Collegiate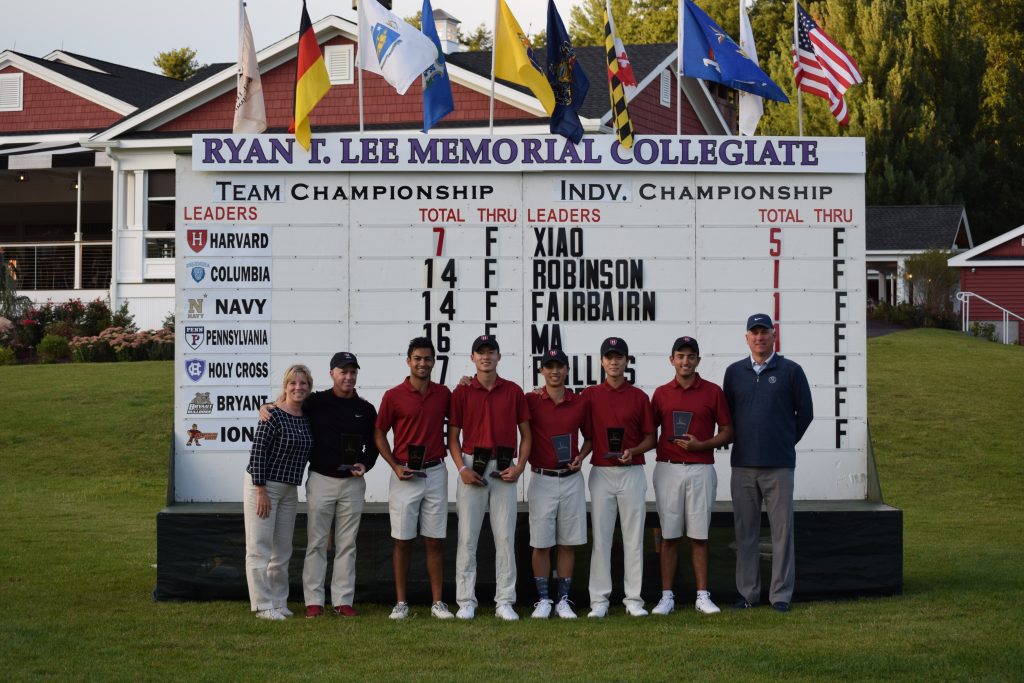 Links: Team Results | Individual Results | Photos
Harvard made its first appearance at the Ryan T. Lee Memorial Collegiate a memorable – and record setting – one. Coach Kevin Rhoads team fired a team total 7 under par to shatter the previous tournament record of 2 under par and bring the title home to Cambridge. The Crimson cruised home with a 21 shot victory over Navy and Columbia, who tied for second. Pennsylvania and Holy Cross rounded out the top 5 teams in the 17 team field.
Harvard placed all 5 players in the top 7, led by freshman Adam Xiao, who not only won his first collegiate event, but set a new tournament record at 5 under par (previously at 4 under par held by Kyle Buschmann and Ryan Tombs of Bryant, and James Mongey of Fordham). Teammates Brian Ma and Grant Fairbairn tied for second place along with Ron Robinson of Monmouth, all at 1 under par. Conor Phillips of Holy Cross and Ollie Cordeiro of Harvard were the only other players to finish at even par or better on the demanding Hop Meadow Country Club course.
Planning has already begun for next year's Ry Collegiate "experience", which will once again be held the weekend after Labor Day on September 11 – 13, 2020.