Ryan T. Lee Memorial Collegiate
September 15 – 17, 2023 | Shuttle Meadow Country Club | Kensington, Conn.​
2023 Ryan T. Lee Collegiate Information
2023 Tournament Field
Army West Point ~ West Point, NY
Brown University – Providence, RI
Bryant University ~ Smithfield, RI
Columbia University ~ New York, NY
Fairfield University ~ Fairfield, CT
Fairleigh Dickinson University ~ Hackensack, NJ
Fordham University ~ Bronx, NY
Hofstra University – Long Island, NY
College of the Holy Cross ~ Worcester, MA
LaSalle University ~ Philadelphia, PA
Long Island University – Brooklyn, NY
Manhattan College ~ Riverdale, NY
Monmouth University ~ W. Long Branch, NJ
Sacred Heart University ~ Fairfield, CT
Siena College ~ Loudonville, NY
Villanova University – Villanova, PA
Wagner College ~ Staten Island, NY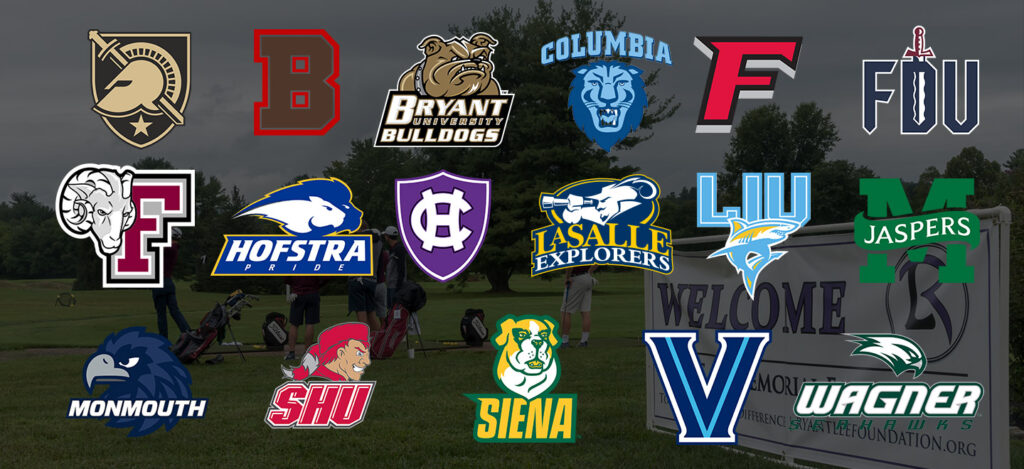 2023 Tournament Information
The Ryan T. Lee Memorial Collegiate is an annual collegiate golf tournament that brings together top collegiate teams from throughout the Northeast each fall. The tournament was founded in 2010 and aims to provide a first-class championship experience to each and every team.
The Ryan T. Lee Memorial Collegiate is open to any NCAA program and will be contested on September 15th – 17th at Shuttle Meadow Country Club in Kensington, Connecticut. The tournament will be played as a 36-hole stroke play event and will consist of a practice round on Friday, September 15th; 18-holes on Saturday, September 16th; and 18-holes on Sunday, September 17th. Players dinners will also be held on Friday and Saturday nights for all teams.
We look forward to working toward growing the tournament into one of the premier collegiate golf tournaments in the country. We hope that you will join us in 2023 for what promises to be another exciting championship.

2023 Schedule of Events
Friday, September 15
1:30 p.m. – Official Practice Rounds at Shuttle Meadow Country Club (shotgun start)
4:30pm- Coaches Meeting (Rules and Tee Times distributed to all teams)
6:30pm- Players Dinner Banquet for all teams at Shuttle Meadow Country Club
Saturday, September 16
7:30am- First Round of Stroke Play Competition (tee times on #1 tee)
11:00am- Lunch available to all players and coaches
5:00pm- Casual Dinner for all players and coaches
Sunday, September 17
7:30am- Final Round of Stroke Play Competition (tee times on #1 tee)
11:30am- Lunch available to all players and coaches
4:30pm- Awards Ceremony and Trophy Presentation immediately following play
About the Course
The Shuttle Meadow Club was organized in 1916 for the purpose of "developing golf links and other places for sport and amusement." Mr. E.A. Moore, who conceived the idea, was actively assisted in the organization of the club by community leaders including Cooley, Corbin, G.P. Hart, H.S. Hart, Platt, Sloper, A.W. Stanley, and P.B. Stanley.
Shortly after the club was organized, it acquired a 550 acre tract of land partially in the southwestern part of New Britain and partially in the town of Berlin. An 18 hole golf course was constructed in the Scottish tradition by Willie Park Jr., who was known as "the man who brought golf to the world". He designed and built only thirteen golf courses, and this was his historic first in the United States. Park's elite courses include Sunningdale in England and Maidstone, Olympia Fields, New Haven, and Woodway in the United States. His courses have hosted US, British and Canadian Open Championships.
Spectators Are Welcome to Attend and Parking is Free! Spectators are encouraged to attend this great event and follow some of the best collegiate players in the country. All spectators are required to follow the code of conduct as specified below:
Spectator Code of Conduct
All spectators are required to abide by the NCAA Spectator Code of Conduct
1. Advice (Rule 8) is any counsel or suggestion which could influence a player in determining his play, the choice of a club or the method of making a stroke. In addition, any conversation between player/spectator may be construed as advice. This includes any conversation between player/spectator in their native language. In either instance, penalty for breach of this rule is two strokes. Players are responsible for the actions of their relatives and spectators in regards to this rule.
2. Keeping the above statement in mind, please keep your conversation with the player to words of encouragement as long as advice is not given.
3. Spectators attend the Ryan T. Lee Collegiate at their own risk
4. Please turn off all cell phones while on site at Hop Meadow Country Club.
5. The Tournament does not allow spectator carts except if the spectator has a permanent handicap placard. Handicap spectators must present their placard to the Tournament Director prior to getting a golf cart. Spectators will not receive a cart unless they have this official placard. Letters from doctors or visible injuries will not warrant a golf cart without a placard.
6. All players and spectators are not permitted to ride on the back of a golf cart at any time during the competition.
7. Spectators should stay on cart paths. In the absence of cart paths, we ask that spectators stay in the rough. Please stay off fairways, tees and greens.
8. Spectators should stay one shot ahead of the group they are following. This allows spectators to follow errant shots and help identify where the ball comes to rest. Spectators are allowed to aid in the search for lost golf balls.
9. Spectators should not give rulings. Please seek a rules official if the need arises.
10. Spectators are allowed to carry medicine, drinks, food, umbrellas, etc.
11. The Tournament staff may assess a penalty to the player based on the severity of the spectator violation. If a serious breach has occurred, the spectator may be asked to leave the facility or the spectator may not be permitted to attend another NCAA event.
12. For your personal safety, we ask you exercise caution at all times. When inclement weather moves into the area, the Torunament staff will suspend play by sounding airhorns. Accordingly, you should seek shelter immediately. The Tournament staff will evacuate players from the course first and then spectators.