Ryan T. Lee Memorial Collegiate
September 15 – 17, 2023 | Shuttle Meadow Country Club | Kensington, Conn.​
LIU COMES FROM BEHIND TO WIN THE 2023 RYAN T. LEE MEMORIAL COLLEGIATE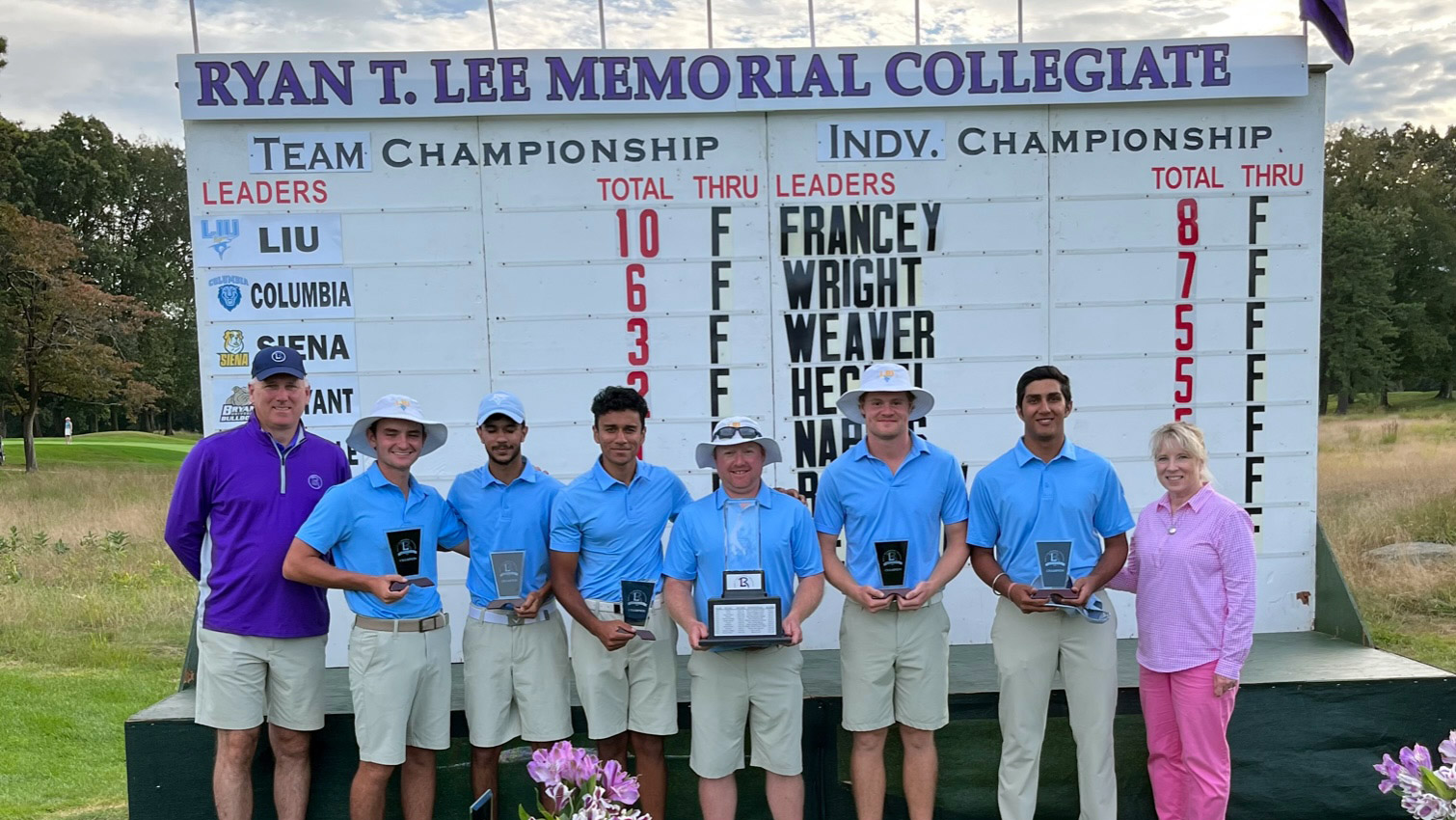 After a first round played in 25 mph winds from nearby Hurricane Lee, the LIU Sharks trailed tournament host Fairfield by 12 strokes. But when Sunday morning rose to sunshine, warmth, and mild calm breezes, LIU came out firing. The Shuttle Meadow Country Club front nine setup of three par 5's brought LIU, Columbia, Siena, Bryant, and LaSalle all into the mix closing in on Fairfield. By the back nine teams were cooling off, but LIU kept up the torrid pace to post a one round team tournament record of 14 under par and edge past Columbia for the title.
This was the 13th playing of the Ryan T. Lee Memorial Collegiate, and it was filled with emotion. Ryan was a starter as a sophomore on LIU when he died tragically in 2011. LIU Coach Ben Belfield said "To win the Ry Collegiate is a huge honor, to be able to do it at such a fine tournament and elite golf course, with the Lee family present, is something I will remember for a long time. It is a brilliantly run tournament, one that I imagine Ryan would love to compete in. We applaud all the event organizers and volunteers that make the event a great success."
The individual title was also thrilling. Early finishers Peter Weaver of Villanova and John Heckel Jr. of Army posted scores of 5 under and were in the club house as the leading teams made the turn. LIU's Lewis Wright then birdied 4 of his final 5 holes to finish at 7 under par. It came down to the last player in the last group on the last hole as DJ Francy of Columbia faced a 10 footer for birdie. He rolled it into the middle of the cup to finish 8 under par and win the medalist trophy.
Congratulations to Long Island University on their emotional championship, and to DJ Francy of Columbia on his hard fought medalist victory!
Here was DJ's birdie on 18 to win the Ryan T. Lee Memorial Collegiate by 1 shot! #RoarLionRoar pic.twitter.com/UduaRiOUa1

— Columbia Men's Golf Team (@CULionsMGolf) September 18, 2023